By collaborating at every stage, options to save time and money can be put into place to create a successful project outcome.
As a member of your project team, City Construction provides pre-construction planning, design services, construction, engineering and project management. Leverage City's resources for your large or small project and focus your attention on your daily operations.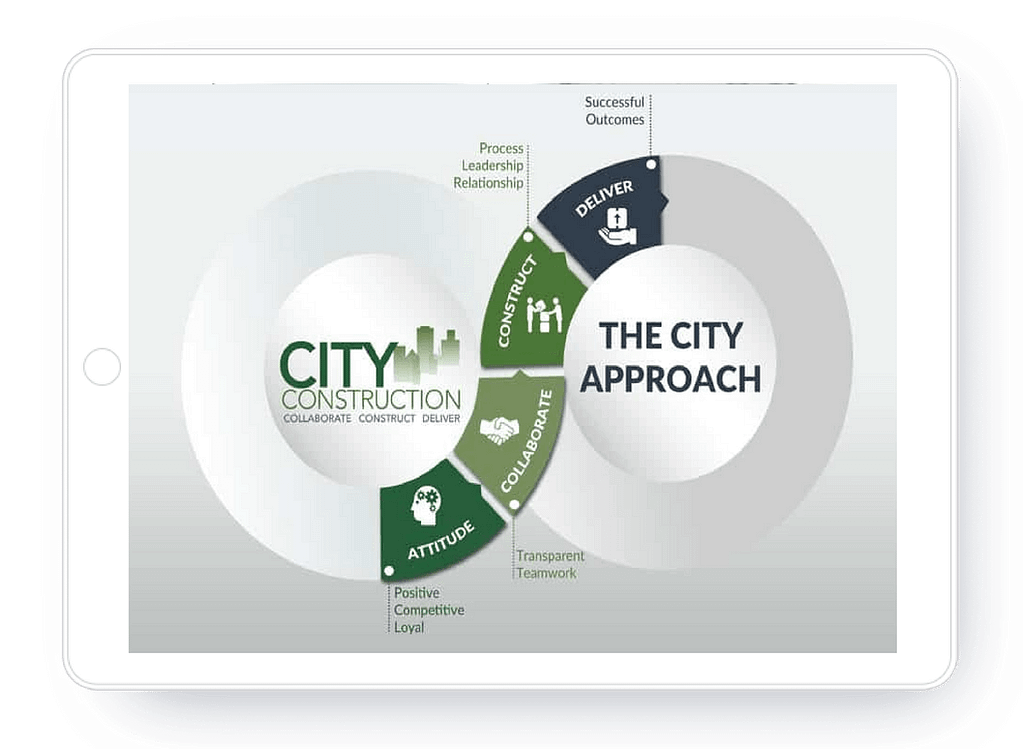 Positive, Competitive, Loyal
We go into every job knowing that there are going to be unique challenges we've never faced before.  And if we hadn't been able to overcome them, we wouldn't be here, ready to work for you, today. Transparent, Teamwork
We're not just contractors, or consultants, or a construction company, we're collaborators.  Got any advice for us?  Something you want to pitch?  Let us know.  It's your field as much as ours.
Process, Leadership, Relationship
Anything that will stand needs a good foundation, a good framework, and a good team to put it all together. So if you're reading this, you've come to the right place. Successful Outcomes
Any project, no matter how big or small, deserves beautiful dedication and lasting success.  We build and deliver not just because we enjoy it, but because we believe your community, your home, deserves it.
Our work speaks for itself, but sometimes, the people we do it for are kind enough to speak up too. Take a look at what past customers have had to say about some of our projects.
The University questioned your ability to perform and you finished one of the hardest projects of my career on time. Your performance made our life and service easier. I thank you for that. Congratulations on a job well done!
The attention to detail and to safety by City Construction is second to one. The communication by City Construction is also the best I have seen in the business.
The attention to detail, dedication to schedule, dedication to safety and maintaining infection control standards at all times are reasons that I seek City Construction out whenever possible. I highly recommend City to anyone looking for on-time, within budget, high quality and an overall successful project.
City Construction's performance was extremely successful. As a result of a collaborative team effort between general contractor and owner, the building was designed and constructed with us involved every step of the way, resulting in a custom building that truly accommodates us and our day to day operations in the best possible way.